Tchenguiz facing hefty Sainsbury bill
Even if you're one of the UK's richest investors, losing nearly a quarter of a billion pounds in a single day is going to sting a bit. So we're guessing that Robert Tchenguiz probably wasn't a very happy bunny on Monday, to say the least.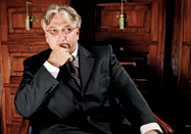 The property entrepreneur may well have started the week expecting that he was about to make a killing on his big investment in Sainsbury's. But by the end of Monday the Qatari-backed fund Delta Two had withdrawn its bid, causing the share price to plummet and wiping nearly £200m off the value of Tchenguiz's 10% stake.
And that wasn't the end of his troubles. Since he'd borrowed heavily to buy up the Sainsbury's stock, investors started worrying that this big loss would force him into a fire sale of his other holdings to raise cash. So they also started selling out of his two other biggest investments, Mitchells & Butlers and SCi Entertainment, taking his total loss well above the £200m mark. Now that's what you call a bad day at the office.
The man whose family name is a tribute to legendary Mongol conqueror Genghis Khan has previously cut a swathe through the UK business world, building up a multi-billion pound property empire and a pretty fearsome reputation to boot (click here to read MT's interview with the man himself in January).