Tech start-ups lead Lebanon out of the rubble
Dynamic young Lebanese entrepreneurs are transforming a country that's been through some very tough times in recent decades - and the UK is helping them.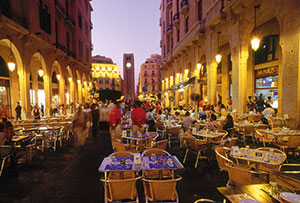 For millennia, Lebanon has produced brilliant business people. Right back to The Odyssey in which Homer sung frostily of a man 'of Phoenicia, well versed in guile, a greedy knave', the Lebanese have been great traders and deal-makers. In modern times, the huge Lebanese diaspora - thought to number around 16 million, coming from a homeland of a mere four million souls - includes Carlos Slim, the richest man in the world, Carlos Ghosn, the boss of Renault/Nissan, and Jacques Nasser, once boss of Ford now at BHP Billiton. Salma Hayek (who has a Lebanese grandfather) is a renowned businesswoman as well as actress. From fly-blown hamlets in West Africa, via Sydney suburbs to the Brazilian bush, the Lebanese are running businesses all over the planet.
The problem is very few of these Lebanese achieve this success in their homeland. The Lebanese work but Lebanon doesn't. Those with talent and ambition frequently leave. Although the country remains technically at peace, there is currently no functioning government, which makes the governor of the central bank the de facto head of state (a set-up Mario Draghi could be forgiven for hankering after). However, for once what is going on in the rest of the Middle East - Libya, Egypt, Yemen, Syria - makes Lebanon looks stable and pacific. But we shouldn't delude ourselves that the current peace is anything other than fragile. The future of Lebanon is not in Lebanese hands.
For years the thorn in the country's side was its menacing neighbour Syria, which regarded the Lebanese as mere squatters in its backyard. Now Syria's proxy, Hezbollah, which would have a seat at the cabinet table if there was a cabinet, looks almost statesmanlike in its armed resistance compared with the medieval savagery of IS over the border in Syria. There are a million Syrian refugees in Lebanon, but they will not allow official camps because the last time they formalised the presence of large numbers of refugees - the Palestinians - it led to a 15-year civil war between 1975-90. (You don't even mention the word Israel in polite society here. It is referred to as 'Disneyland'.