Telecoms giants bet on broadband
Mixed fortunes for two of the UK's telecoms giants in the last 24 hours. Both BT and Virgin Media reported increased revenues, with big improvements in their broadband sales – but the two sets of results met with a very different reaction.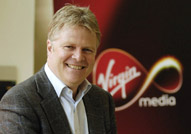 Virgin was the surprise turn of the two. After losing 70,000 customers in the second quarter, in the wake of a row with Sky over programming, it was expected to shed about 30,000 more in the three months to September. Instead, it embarrassed a few analysts by actually gaining an extra 13,000 customers. This helped profits hit £47m, up from a measly £3m last quarter. Acting boss Neil Berkett called it a 'significant turnaround' – and the City certainly liked what it saw.
Which is more than can be said for BT this morning. It's not that the company's results were terrible – revenues were up 3%, while sales of its 'new wave' services jumped 10% to £1.9bn. But CEO Ben Verwaayen's restructuring programme, which involves removing some 5,000 middle managers and bringing in more customer-facing staff, is really starting to bite. The plan ought to save money eventually, but there'll be some short-term pain before the long-term gain. Net profit slumped 29% to £339m, which prompted a big fall in its share price.
With standard telephony revenues declining, both companies seem to be banking on broadband to drive growth. And both had plenty to smile about here – BT's overall broadband revenues jumped 12%, while Virgin managed to sign up another 116,000 people to its own service. With a total base of about 3.6m, Virgin now claims to be the largest residential broadband provider in the UK – although BT seems to think it's providing broadband to 4m homes, so they can't both be right.