Tempted to slash costs to drive sales? Here's why you shouldn't
When times are tough businesses turn to steep discounting to chase cash-strapped punters downmarket. But a low-price strategy is unlikely to deliver much, if any, benefit. Here's why.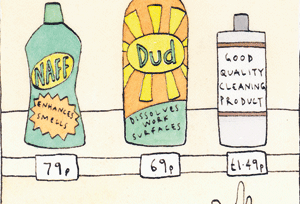 Consider this frankly terrifying tale from a marketing exec at a major motor manufacturer. His company brought together a range of 13 competing models for comparison, all in silver, and with the badges removed. The experienced industry audience couldn't tell them apart - they couldn't even pick out their own cars.
The truth is that if you have allowed yourself to end up in an overcrowded market where you don't stand out, then all lowering prices is going to achieve is to erode your precious margins. Unless your business is organised to have lower costs than anyone else's, discounting is a losing game.
There is an alternative - successful differentiation. We can see how powerful that strategy can be by looking at what happened in the packaged goods industry at the start of the recession. Unilever and Procter & Gamble both saw their profits fall substantially (18% and 17% in one quarter), while Reckitt Benckiser's rose by 14%. The difference was that the first two launched 'value' versions of products, while Reckitt moved in the opposite direction, launching premium versions costing, in some cases, twice as much as the 'bargain' equivalents. Reckitt proved, in its CEO's words, that 'in a downturn, people don't walk away from better products'.