Ten New Year's resolutions for being a better boss
Want to be a better line manager? Here are ten ways to get the most out of your employees in the New Year.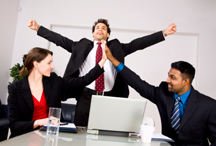 Let individuals know when they're doing a good job. Most bosses don't tell employees when they do a good job; it's usually only when it's a fantastic job. However, praise when it's deserved is critical as it's a big motivator and drives productivity.
Listen to the people you manage. Bosses usually talk to, rather than listen to employees. However, it's only when individuals are properly listened to that they feel valued, engaged and are ultimately more productive.
Try to avoid fault-finding. Give constructive feedback. We all make mistakes and if you go down the 'blame route' it will really knock an individual's confidence. Offer constructive feedback that will have the right kind of impact.