The ten o'clock brainwave
Good news for flexible working enthusiasts: we're apparently at our most creative at 10.04pm...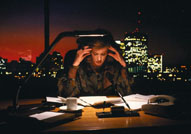 People hit their creative peaks late at night, according to a survey by hotel chain Crowne Plaza – our most brilliant brainwaves are apparently most likely to strike at just after 10pm. Since almost everyone (apart from City insolvency specialists, perhaps) will be home from work watching Sir Trevor McDonald by then, this is not terribly helpful for British business. Perhaps the Government needs to re-think its plan to postpone the extension of flexible working rights?
According to the poll, about a quarter of us like to burn the midnight oil when we're looking for that little spark of inspiration (possibly a hangover from late-night essay crises at school or university). But strangely enough, it's not necessarily just the peace and quiet that gets the creative juices flowing – apparently 44% said they like to take a shower when they need a brainwave. Again, it might not be too easy to replicate this in the office, unless you want some seriously funny looks.

The hotel group also quizzed respondents on how they record their moments of clarity, and found that nearly 60% of us forget them completely because we fail to write them down at the time (men are particularly bad at this, apparently). That said, a remarkable 33% of over-35s said they'd employed that classic schoolboy trick of writing on the back of their hands. Arguably they're a little old for that...
But wait a minute – have we spotted a pattern here? What kind of environment provides a comfortable late-night environment, an always-hot shower, and a notepad next to the bed? Could it be a hotel group that specifically targets business travellers? Of course, only the hard-hearted cynic would suggest that bore any relation to these results – we're sure that they're methodologically impeccable.