Ten Top Tips: Make a memorable speech
Does the very thought of giving a speech leave you dry-mouthed and terrified? Here are ten ways to create a speech with the 'wow!' factor.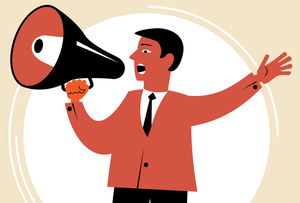 According to Nora Ephron, 'When you sit down to write the first page of your screenplay, in your head you are delivering your Oscar acceptance speech.'

However, when it comes to delivering the speech, research indicates that 75% of us suffer from glossophobia (fear of public speaking). Unfortunately, most of us have to speak in public at some point - as part of our job, at a wedding or, er, when we accept our Oscar. It can be as painful for the audience as it is for the speech maker. So how can you make your speech as painless and memorable as possible?

Remember that any topic can be made fascinating and memorable
I can remember a speech made years ago on toilet rolls. I can still recall the presenter's name, the intricacies of ply strength and the importance of softness!

Why are you giving the damn speech, anyway?
Once you have your topic, decide whether you primarily need to inform, inspire or entertain your audience. For example, in a speech about skiing, you could focus on the equipment and skills (inform), the feeling of being on top of the world (inspire) or your antics on the black run (probably entertain).

Start at the end