Ten Top Tips: Network like a pro
Are you good at keeping your finger in a lot of pies? Got great contacts dotted all over the place? Well here's how to make the most of your networking skills...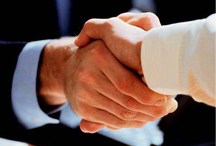 Network design:
1. Decide what you want to get from your networking: for instance, clients, suppliers or research. It might also be you're after best practice ideas from other sectors or a sounding board for your ideas. Forget direct selling in groups or events.
2. Pick out how you most like to network – for example online, informal or specific events. There's not much use thinking you can build a great network on LinkedIn if you're not up for spending time on your PC.