Published: 16 Oct 2019
Last Updated: 16 Oct 2019
It's a small world and it's getting smaller. In the Middle Ages, when globalisation meant European trade federation the Hanseatic League exporting Flemish cloth to the tailors of Paris, world trade was comparatively simple. Then came refrigeration, steam power, the petrol engine, exchange rates, motorways and, eventually, the internet. Farewell simplicity.
The great European empires were founded by conquest but built by trade, however unfair the terms. The British East India Company, the Swedish Africa Company, the Royal Barcelona Trading Company to the Indies and their peers were lavishly financed international operators. They were at the cutting edge of technology and big enough to benefit from economies of scale. Some even had their own armies.
Though these historic entities ultimately failed, they had established a template for others to follow. As advances in technology and travel shrunk the world, global corporations flourished. Look at any international trading sector after World War II and you will find dominant multinational businesses, from cars (General Motors) to oil (Exxon Mobil) and steel (General Steel).
These companies were about "stuff " – things that were manufactured and that, in their finished form, could be purchased in shops, showrooms or from petrol pumps. And they tended to be based in the US, since the rest of the world was, generally speaking, either recovering from the devastation of war, under-developed or communist.
With the head start that comes from being at the heart of the world's largest economy, American companies built their factories, car plants and refineries. It was US technology that enabled American geologist Max Steineke to discover oil in Saudi Arabia in 1938 for the California Arabian Standard Oil Company. At that point, there was simply nobody else in the game.
Things change. In Saudi Arabia, the California Arabian Standard Oil Company, now Saudi Aramco, is (until its long-planned flotation materialises) wholly owned by the Saudi government. War-ravaged Japan, West Germany and South Korea all rebuilt themselves. Communism fell in Eastern Europe, apartheid collapsed in South Africa, China eventually began to covet a slice of global business and some major South American economies emerged.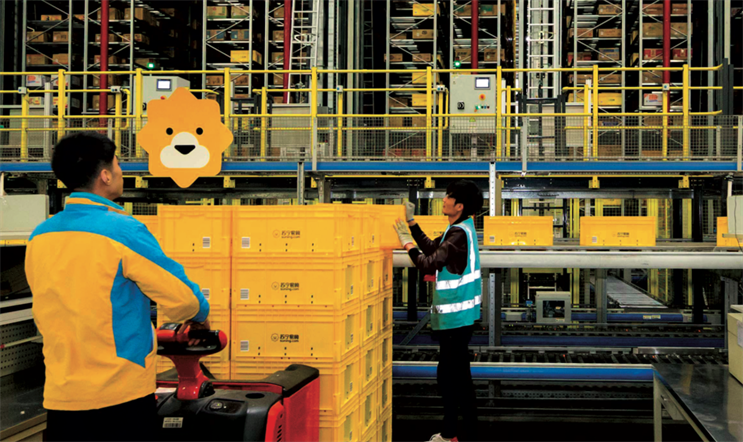 Workers transfer packages at Chinese retailer Suning's logistics base in Nanjing
Like the British towards the end of their empire, US companies abroad started to appear rather heavy legged in comparison with the nimbler, more technologically savvy operators that understood the previously obscure markets from which they hailed.
Globalisation remains a dominant force. In 1956, international trade became worth more than 20 per cent of the world's GDP for the first time. In 2007, it was worth fractionally less than 60 per cent, although it has slipped back slightly since. But global trade is changing, becoming less dominated by the US and taking on a more regional flavour.
Today, international commerce is no longer just about "stuff ". It's about technology, brand and ideas. You no longer need an assembly line, a plant or a refinery to be a global concern – some management theorists argue that all you need is a connection – and in fact it's harder for older companies with legacy infrastructure to take advantage of the new dawn. Electric cars may be the future but if your automotive plant is set up to make petrol cars, expensive, time-consuming changes must be made to level the playing field. And by the time it's been levelled, your rivals have probably moved on.
Emerging markets mean additional markets. The more markets there are, the more they vary. Ergo, the world is not just getting smaller, it's getting more fragmented, more regional and more complicated. This means that to be big, companies must understand small, as HSBC purported to do when it anointed itself "the world's local bank" in 2002, only to dump the slogan a decade later after pulling out of too many local markets.
Even in technology, where America's West Coast is widely seen to dominate the global market, new players have entered the fray. China's Tencent and Alibaba, Indonesia's Gojek, South Korea's Naver and Argentina's MercadoLibre are major players in this new global, regional and local economy.
None has reached its 30th birthday and none specialises in "stuff". All spotted how to use the internet in their native markets, not necessarily before everyone else – as the Americans did – but more perceptively. Because they effectively offer an online platform on which they sell their own and other companies' goods and services, they are dubbed "platform businesses", like Amazon. And like Jeff Bezos' creation, their model is built on economies of scale. The bigger these companies grow, the smaller their transaction costs become and the greater their competitive advantage. And with their home bases covered, these businesses are starting to look for expansion on a global scale.
Tencent and Alibaba
To state the obvious, China is not like other countries. On the one hand, the Chinese Communist Party has embraced commerce, billionaire capitalism and entrepreneurs, subtly escaping the dead hand of a command economy. On the other, nothing happens without the CCP's involvement, without Chinese national interest being paramount and without the party taking a cut. Indeed, since 2017 it has been enshrined in law that "every organisation shall support and co-operate in national intelligence work". As Alibaba founder and party member Jack Ma, who is soon to retire, noted: "The relationship is to be in love with them [the government], but not to marry them."
This doesn't mean the CCP micromanages but it does oversee. For example, one of the core elements of Tencent's business is video games. In March 2018, the month Tencent became the world's largest video game company, the Chinese government described Honour of Kings, the blockbuster game known globally as Arena of Valor, which grossed 96 per cent of its $3.5bn revenue in China, as "poison" and refused to license any Tencent video games. The freeze lasted nine months.
Things are supposed to move slowly in one-party states but it took Tencent just three months from its creation in November 1998 to release its instant messaging service OICQ, now known as QQ.
---
---
The winning move by founder Ma Huateng –alsoknownasPonyMa–wastomakeQQan improved version of Israeli instant messaging service ICQ and then monetise it. It developed mobile QQ: service provider China Mobile charged users, Tencent took a 20 per cent cut. From there came similar arrangements with web portals, search engines, online games and video platforms, while a "freemium" membership system (free services topped up by paid-for premium ones) filled the coffers and boosted brand loyalty.
With the base growing, Tencent weathered three years of unprofitability and secured foreign investment, chiefly from South African behemoth Naspers. However, hopes of an international breakthrough were stymied by US suspicion of Chinese government involvement. Ma Huateng pinned his hopes on voice and text messaging app WeChat, saying: "For Tencent to operate globally, WeChat is by far the only product that realises it." However, a billion-dollar budget and endorsement by football superstar Lionel Messi failed to take WeChat beyond the Chinese diaspora.
Jack Ma founded Alibaba in his apartment in 1999 and it went on to follow Tencent into the list of the world's top 10 companies. Alibaba took three years to become profitable and was helped by foreign investors, notably Goldman Sachs. The company's expansion strategy concentrated on small businesses, which meant offering an extraordinary smorgasbord of goods and services.
Alibaba's watershed year was 2003. The company's online marketplace, Taobao.com, repelled eBay's entry into the Chinese market, chiefly by not charging a fee for platform transactions. Moreover, to eliminate fraud in countries where transactions are not transparent, payments are held until the buyer acknowledges receipt.
In 2005 Ma sold 40 per cent of Alibaba to Yahoo and in 2014 the company's initial public offering on the New York stock exchange was the biggest in US history. Taobao now has 500 million registered users. And it's not merely a trading platform: advertising is tied closely to users' purchases and members of the Taobao Ke group are paid commission by merchants when they recruit new customers.
"The Chinese market is very big but extremely competitive," says Professor Arthur Yeung, lead author of Reinventing the Organization. "Alibaba and Tencent encountered tremendous competition from global and local competitors, but they stand out because they are extremely obsessed with customer needs.
"They use highly autonomous, customer- facing business teams in each product and service, empowered by a strong platform, enriched through ecosystem partners. The organisational model enables them to enjoy the power of being simultaneously small (agile teams) and big (platform and ecosystem)."
Having conquered their homeland, both Tencent and Alibaba have looked to international markets and are doing so on an equal footing with their Silicon Valley rivals.
Tencent may not have made headway with WeChat in the US but that hasn't stopped it making acquisitions and investments in other ecommerce areas. These include India's Hike Messenger, FlipKart and Ola; the US's Snap Inc; South Korea's KakaoTalk; Denmark's Lego and, for $8.6bn, 84.3 per cent of Finland's gaming giant Supercell. Music app JOOX, which made its debut in January 2015, followed the QQ format of launching free and adding premium, paid-for content. It is now the biggest music-streaming app in Hong Kong, Indonesia, Malaysia, Myanmar and Thailand.
Alibaba is investing in and acquiring locally successful companies such as India's Paytm, Turkey's Trendyol and, most significantly of all, it has taken a controlling interest in the South-East Asian ecommerce giant Lazada, a purchase that included an 8.6 per cent share owned by Tesco.
While Chinese companies look to expand into the west, western companies often struggle in China. Alibaba's "new retail" strategy facilitates Chinese retailers selling abroad, while simultaneously being a gateway to China for foreign companies. It helped drive Amazon out of China earlier this year.
"A big part of our globalisation strategy is connecting brands and small businesses from all over the world directly to the Chinese consumer," Mike Evans, Alibaba president, said in January. "China is a massive consumer market and an attractive growth opportunity, which many global brands have not properly understood. Where Amazon builds moats, Alibaba builds bridges." Amazon, however, may be learning from its mistakes. As Yeung notes, it is performing better in India, where it has overcome the disadvantage of geographical distance by appointing Amit Agarwal, who had previously served as Jeff Bezos' technical adviser, as country head.
Yeung, who worked with Alibaba for a year and Tencent for more than a decade, is convinced the Tencent/Alibaba model is exportable. "It thrives when the environment is highly unpredictable and fast changing with new opportunities and threats," he says. "Alibaba uses its platform to support overseas ecommerce partners, while Tencent is leveraging its organisational model in interactive games to overseas partners.
"If I were asked to invest everything I own, I'd pick Tencent over Alibaba," Yeung adds. "Individually, the leaders are very smart, great learners, humble, resilient and hard-working. Tencent's revenue structure is getting healthier and more balanced. Other than in online games, it is growing rapidly in advertising, payment and finance, and smart industries."
Gojek
Looking beyond its base, this year Tencent upped its already significant stake in the $10bn-valued Gojek. The Indonesian ride-hailing app has expanded from 20 drivers in 2010 to – it claims – more than a million. Founder Nadiem Makarim noticed the market was flawed: drivers wasted time looking for customers; customers wasted time looking for rides. Before you could say "Uber" (which, incidentally, claims to have 3.9 million drivers), Makarim had raised more than the $1.5bn he wanted to fund Indonesia's first unicorn.
A prime example of regionalisation, Gojek has already expanded abroad, acquiring a succession of Indian start-ups, while diversifying at home into ewallets, ticketing, beauty and house-cleaning services. Gojek is the only business in South-East Asia to make Fortune's 2017 50 Companies that Changed the World (it came in at number 17). It has now set its sights on Vietnam and Thailand (where six out of 10 adults don't have a bank account – no problem for Gojek's micropayment systems) and the Philippines, where Singapore-based ride-hailer Grab has already overtaken Uber.
Singapore itself, where public transport is exceptional and road use tightly regulated, is out of the immediate loop, but even here there have been discussions with transport company ComfortDelGro, which also owns bus companies in London, Wales and Scotland. Makarim's high-wire approach is to celebrate devolution and give local partners autonomy – a strategy that compensates for a lack of intimate local knowledge.
Naver
From a western perspective, it's tempting to think that Google has swept all before it in the realm of search engines. However, China has Baidu, the Russians have Yandex and South Korea has Naver. The last has a 72 per cent local market share and is the world's fifth most popular search engine after Google, Yahoo, Baidu and Bing.
In 2014, conversely, Google was used for only four per cent of South Korean searches. Naver was launched by a group of former Samsung employees in 1999 (apparently the name was inspired by the word "navigate"). By 2000, they had developed a search engine with a feature not unlike Google's Universal Search function and, even more crucial to internet development in South Korea, Knowledge iN, a question-and-answer service with similarities to the later Yahoo Answers.
The company absorbed the game portal Hangame, changed its group name to NHN (Next Human Network) Corporation and expanded; first into Japan (where it runs the most popular messaging app Line) and then China. It diversified into the filter-laden Junior Naver, the donation portal Happybean and the social network Me2day. An attempt to breach the US market failed, but Naver made the Forbes Global 2000 in 2008. Naver and Hangame divorced in 2013 and, since 2016, the rechristened Naver Corporation has attempted to break into Europe, most notably by purchasing the Xerox Research Centre Europe.
Han Seong-Sook, a former journalist who was appointed Naver CEO in 2017, has said: "Naver is seeking new opportunities by transforming painstakingly and relentlessly as the industry evolves." The latest of those opportunities is an alliance to make its browser available on LG's new dual-screen smartphone.
MercadoLibre
Asia Pacific is at the forefront of the technological transformation of trade, but change is also taking place in Latin America. MercadoLibre (literally "free market") was created in 1999 by the well connected Argentinian Marcos Galperin while he was studying for his MBA at Stanford University.
His new venture – based on the proposition that it could become the Latin American version of eBay – soon attracted hedge fund investors. MercadoLibre grew through collaboration and almost 20 per cent of the company was sold to eBay in 2001. The stake was sold in 2016 but links remain and MercadoLibre has expanded into all South and most Central American markets, including Mexico, which will soon overtake Argentina as the company's main source of revenue.
Beyond ecommerce, MercadoLibre has diversified into real estate, credit, online advertising and, importantly, MercadoPago, the electronic payment system. "We see a lot of potential for growth," Germa´n Spataro, vice-president of the company's Spanish online marketplace, said last year. "Partly through increasing smartphone penetration and internet access, because of the economy's growing digitalisation – partly driven by MercadoPago – and because of the distinctive proposition our platforms bring to users."
MercadoPago targets people in informal employment and the 50 per cent of Argentinians who don't have access to financial services or bank accounts. More than 200,000 businesses have signed up, including McDonald's and the Argentinian energy giant YPF. There's a loyalty points scheme and, giving MercadoLibre a foothold on the global financial system, a pre-paid payment card in conjunction with Mastercard.
"It's very easy: you pay with your phone," Galperin has said. "The idea was to join YPF, the company with the highest turnover in Argentina, with the largest ecommerce company in the region to bring the democratisation of money and the modernity that internet technology brings... The consumer can forget about cash and cards. There are benefits for everyone."
This year, in the wake of an aggressive acquisition policy that has driven growth of 388 per cent since 2016, MercadoLibre was valued at more than $30bn, surpassing Twitter and Spotify.
UK opportunities
For British businesses, the future is confusing – but intriguingly so – and a knowledge of the new power players will prove invaluable.
At best, they could be the source of lucrative partnerships for UK companies. At the very least, British operators need to be aware of these influential newcomers, understand their propositions and tailor their export strategies accordingly.
In China, for example, a country where the consumer economy is still relatively novel, the best way to reach shoppers is not through traditional advertising channels but by reaching out to "key opinion leaders" or KOLs, as social-media influencers are known locally. If you can make it work, the rewards can be spectacular. In 2016, Maserati sold 100 sports cars through TMall, Tencent's online marketplace, in 18 seconds – but any market that has rebuffed the likes of eBay and Amazon has to be treated with respect.
Given the growing global ambitions of these new multinationals, British businesses might also want (to paraphrase John F Kennedy) to ask not what these companies can do for you but what you can do for them. Could UK brands, channels and intellectual property be attractive to these newcomers?
"If a company creates a market opportunity – like Uber in the US – it enjoys great growth opportunities as a first mover. However, those opportunities soon attract competitors, especially in markets such as China. If a company is to sustain its business growth, it must grow its leadership, culture, talent, processes and infrastructure," says Yeung. That can be hard to do by yourself, even if you are a multinational platform.
The terminology of ecosystems, platforms and KOLs makes this all seem a long way away from shipping Flemish cloth to medieval tailors in Paris. But the principle – finding ways to match demand with supply across borders efficiently and profitably – is much the same.
Only now you don't need to be the largest publicly listed company in your country to benefit. Fashion entrepreneur Sandy Friesen launched her Welden handbag brand from her home in Connecticut. One of her customers, a Chinese KOL, advised Friesen to set up an interactive livestream to her home. Doing this via Alibaba, Friesen "met" many of her customers virtually, discovered what colours they preferred ("always red") and, crucially, sold 1,000 bags – with price tags from $195 to $595 – in two days.
Images: Getty Images