Terry Leahy: Tesco et al can win from the middle
The big supermarkets haven't done enough to respond to customers, according to Tesco's feted former boss.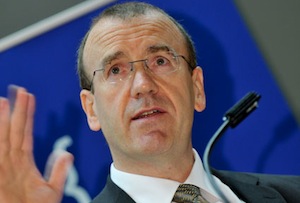 Tesco and the rest of the 'big four' supermarkets (Asda, Sainsbury's Morrisons) are certainly in a pickle, squeezed from the bottom by the discounters Aldi and Lidl and the top by Waitrose. But according to former Tesco boss Sir Terry Leahy middle-of-the-road retailers can still win big - if they respond to customers.

'If you're strong from the middle it's the best place to be in market, because you can actually reach from your position of strength the whole of the market in a way that focused niche players never can,' Leahy told the Evening Standard's Business Connections event on Tuesday night.

'Although it's more difficult, because you've got to project an appeal that's broad, if you can do it it's very powerful,' he said. 'So they key is be strong, be competitive, improve faster from the middle of the market than your competitors from the periphery... and that has a lot to do with your ability to sense changes that are taking place in society.'

It's all about the customer, Leahy said, and the supermarkets have lost sight of their changing needs. 'Retailing is about winning customers every day and whatever the environment you've got to be prepared to change and innovate and reposition your business... The industry in general - Tesco in particular - hasn't been able to do that.'

Leahy, who stepped down from Tesco in 2011, was unsurprisingly cagey when MT asked him how much of Tesco's current woes were down to his ill-fated US Fresh & Easy venture. It was unveiled to much fanfare in 2007 and exited by now ex-boss Philip Clarke in 2013 at a cost of £1bn.

'Tesco's investment in the US was part of an investment outside of the UK to give long-term growth to Tesco, which it did very successfully,' Leahy said. 'I mean we created a business outside of the UK by the end of my time as CEO that was as large as Tesco when I started in the UK.'

And Leahy, who won MT's Most Admired Leader award a record-breaking eight times in the noughties, is still convinced that large retailers need equally hefty ambitions to grow. 'When you're a business of that scale [Tesco], you do need to reach beyond your home market,' he said. 'I don't just mean countries, I mean products and sectors and so on.'

Tesco, then, according to Leahy, needs to think big to get out of its rut (well at least the £263m profit black hole anyway). MT wonders if new boss Dave Lewis is listening.