Tesco: booze cruise and bad news
Tesco has been happily toasting its new method of shifting wine supplies around the country, boasting that it's 'the first major British retailer to transport cargo by canal'. It's a fine eco-friendly move, but boss Terry Leahy could probably do with some time chilling on a barge sipping a Bordeaux himself – anything to take his mind off the ongoing brain drain at the company. This week yet another Tesco executive has shipped out.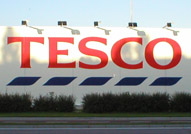 Julia Reynolds, one of the people behind Tesco's move into fashion retail, quit earlier this week to head up lingerie specialist Figleaves.com, becoming the second senior female executive to leave the company in the space of a fortnight. The retail giant's reaction to the defections? It is apparently 'unconcerned'.

Yet these are hardly inconsequential knocks. Reynolds' departure comes just a couple of weeks after Dido Harding swapped the chain's blue and white for the orange of Sainsbury's, heading up the rival's convenience store business. Harding, formerly Tesco's development director, is among the nation's most highly-rated executives; her move came only a couple of months after DSG poached John Browett, after 10 years on Terry Leahy's top team, to be its new chief exec.

We've raised this issue before on these pages. Perhaps's Leahy's long and glorious reign at Britain's Most Admired Company is resulting in that age-old problem of job-blocking? Whatever the cause of the exodus, the companies mopping up the fallout will be keeping a close watch, and raising their glasses.