Tesco bounces back - but denies Rock bid
Tesco's clawed back some of the custom lost to rivals recently - and Tesco Bank is officially in business.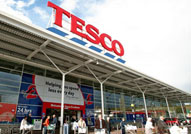 A fairly encouraging set of half-year results for Tesco this morning: the giant retailer saw underlying profits jump by 8.6% to £1.57bn, better than the City was expecting, while boss Sir Terry Leahy said it had begun to claw back some of the sales it has been losing to the likes of Sainsbury, particularly since the launch of its new (even more hi-tech) Clubcard in August. And if that will make the other supermarkets nervous, Leahy also announced his intentions to take on the high street banks with his finance arm, now renamed Tesco Bank – which is already making profits of over £100m. Although Tesco did tell the BBC today that it wasn't planning to buy what's left of Northern Rock...

You could put a negative spin on today's figures, if you wanted. Like-for-like sales growth in the UK was a relatively modest 2.7%: that's much less than rivals like Morrisons, and the situation seemed to get worse rather than better in the second quarter. Meanwhile profits fell 5% in Europe, where its stores are feeling the recessionary pinch, and losses widened by 42% in the US, where its east coast Fresh 'n' Easy stores are still struggling to gain traction. All in all, overall group profits inched up a fairly unimpressive 1.5%, which will probably be the lowest of all the Big Four supermarkets.

On the other hand, half-year earnings of £1.5bn (about £8m a day) are not to be sniffed at. Sales are still growing in the UK, despite its market share already being comfortably above the 30% mark – and according to Sir Terry, like-for-likes have 'converged with [the] industry' in the last few weeks, thanks in part to its revamped loyalty card scheme. Oh, and non-food sales were up 5% during the period. Indeed, overall profits would have been higher had it not been for the interest costs of the debt taken out to buy Homeover in Korea (which is going great guns) and to take complete control of its financial joint venture with RBS – now re-christened Tesco Bank, in preparation for its assault on the retail banking market.

Tesco clearly sees a big opportunity in banking. Last half the division, which has just moved into its own HQ in Edinburgh, made a very healthy trading profit of £115m on revenues of £420m (despite an increase in bad debts). It's added another 300,000 customers in the last year, taking the total above 6m, with 'double-digit growth in savings, loans and credit cards'. There are rumours of current accounts by Christmas (although Tesco denies this). Leahy might not be interested in the rump of the Rock, but eventually he wants its services division (including Tesco Bank) to churn out profits of £1bn. And it'd take a brave person to bet against him.

In today's bulletin:
Tesco bounces back - but denies Rock bid
Tories take Route 66 on retirement debate
Don't believe everything bloggers tell you
Osborne courts entrepreneurs with NI holiday
Christmas service could make or break retailers