Tesco chairman quits as profits plunge 92%
The black hole in its accounts is bigger than feared at £263m, and spread over a longer period.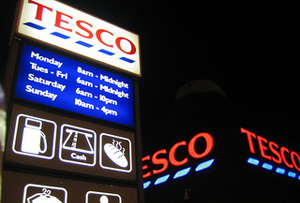 Tesco chairman Sir Richard Broadbent has finally fallen on his sword, after Britain's largest supermarket reported today that half-year pre-tax profits had plunged 92% to £112m, after the profit overstatement discovered a month ago turned out to be bigger and spread over a longer period than anyone had expected.

The total profits overstatement was £263m, compared to the previous estimate of £250m, the company said in its half year interim management statement. But only £118m of that relates to first half trading profit (in the 26 weeks to 23rd August), it said, while profits were inflated by £70m in its 2013-14 financial year and £75m in periods earlier than that.

'The current and prior practices appear to be linked as income pulled forward grew period by period,' Tesco said. 'The issue raises many questions which will now be examined in the context of the FCA investigation... Given the outstanding investigation, we can make no further statement at this stage about how these events came about.'
Yet more waiting, then, for investors to find out the full story - for example, whether former chief executive Philip Clarke knew, or should have known, what was going on sooner. And uncertainty is no good for Tesco's share price, which fell more than 4.5% to below 175p at the open this morning. It had already fallen by more than 50% in the last year.
Eight execs, including UK managing director Chris Bush, have been suspended since new boss Dave Lewis ordered Deloitte and Freshfields to investigate the moving of income and costs into different accounting periods. Clarke, however, could not have been suspended, having already been shunted out.