Tesco closing 76 supermarkets (at night)
Midnight shopping will be a thing of the past, as Dave Lewis turns the cost-screw.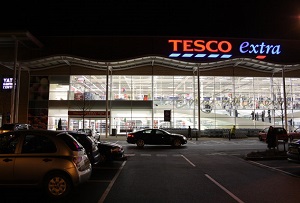 Tesco boss Dave Lewis is pulling the shutters down on 24-hour shopping. From sometime in March or April, 76 of Tesco's 400 all-night stores will adopt the more sociable hours of 6am to midnight, as the firm attempts to become 'more responsive to the way customers want to shop'. That might have come in handy a few years ago, when the firm was busy spending a fortune on out-of-town supermarkets just before shoppers decided they didn't want them.
'It makes much more sense for colleagues at those stores to focus on replenishing the shelves instead and making sure they're fully stocked when they open their doors at 6am,' said Tesco retail director Tony Hoggett.
It is part of Lewis's strategy to survive the groceries price war that has seen Tesco and the other Big Big Four supermarkets lose billions in impairments, as slick newcomers Aldi and Lidl gut the Big Four's margins. Rather than focusing on Tesco's now rather tricky-to-define brand, Lewis has been obsessively concerned with costs. Tesco has too many of them.