Tesco is continuing to outstrip the rest of the 'Big Four' supermarkets
But there are signs of trouble as it pulls Schweppes from the shelves.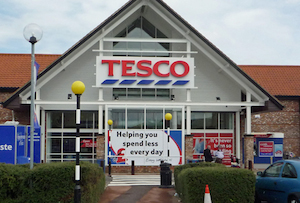 In years to come, could Tesco's chief exec Dave Lewis be hailed as the man who saved the supermarket from its biggest crisis ever? Figures today from Kantar Worldpanel suggest the grocer is thrashing its main rivals in the battle to maintain solid levels of growth.
In the 12 weeks to March 1, Tesco's sales were up 1.1% on last year, meaning it's the only one of the 'Big Four' supermarket chains that grew in that period. Sales at Asda, the second-largest supermarket by revenue, dropped a painful 2.1%, while Sainsbury's and Morrisons dipped 0.5% and 0.4% respectively.