Tesco earns its stripes with overseas profits
Britain's biggest retailer has posted promising results. In Asia.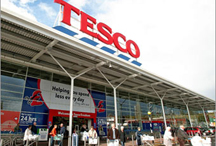 Here we go: a good news story for a British retailer. In the words of Tesco's soon-to-depart chief exec Sir Terry Leahy, the supermarket giant was experiencing 'the tailwinds of recovery': posting pre-tax profits of £1.6bn for the six months to 28 August, up 12.5% on the same period last year. Sales grew by 8.3% to £32.9bn.
It sounds like just the kind of story the UK retail sector needs right now. Not quite. This latest success was largely down to Tesco's performance in Asia, where profits rose 30%. Total sales there grew by 7.6% to £5.3bn – that's just over 15% of group sales. Every little helps, it seems, for the baht as much as the pennies.
Back here, by contrast, sales were sluggish. Sir Terry said the chain had coped well with 'subdued demand': back to earth with a bump there, then. Like-for-like sales in the UK, excluding VAT and petrol, were up by a mere 0.3% to £21.9bn in the first half.