Tesco feels the squeeze as rivals cash in
Sales growth has slowed at Tesco - and figures suggest it's leaking business to its main rivals...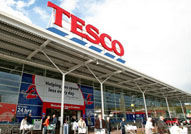 Tesco said today that like-for-like sales grew at just 2% last quarter – marginally better than analysts were expecting, but still well below its historic growth rates. Its big discount drive, intended to ward off competition from the budget stores, has clearly taken a few percentage points off overall sales (as the retailer admitted). But the more worrying news is that, according to market researchers, Tesco is losing just as much custom to Asda and Morrisons…
It's not that today's figures were particularly bad. A 2% growth in like-for-like sales – particularly for a company of Tesco's enormous size, and particularly in the current climate – is hardly a disaster. Indeed, overall group sales were actually up 11.7%, with international sales rising 28% (thanks largely to a stonking performance in Asia). The retailer said it was making 'solid progress' in a tough UK market – it reckons its new discount range is pulling in an extra 300,000 food shoppers a week, while non-food sales (the area considered to be more exposed to the downturn) are apparently 'holding steady'. And Tesco's share price actually rose this morning, as investors expressed relief the results weren't worse.
However, by Tesco's lofty standards, 2% sales growth counts as a pretty measly figure. This time last year it reported 4.8%, and even last quarter it managed 4%. In fact, this is apparently its slowest rate of growth since the mid-1990s – and that has to be seen as a warning sign. Worse still, the Times quotes new figures from TNS Worldpanel suggesting that about £22m of customer spending was switched from Tesco to Asda last quarter, with another £10m going to Aldi and a similar amount to Morrisons. Even Sainsbury's seems to be showing Tesco a clean pair of heels at the moment.