Tesco hopes two new directors will win back trust
The troubled supermarket is beefing up its board in the wake of the £250m accounting scandal.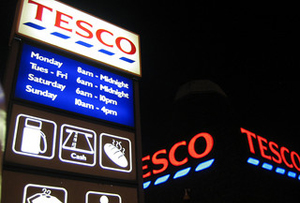 Tesco has appointed two new independent directors to its board, in a bid to shore up trust among investors after the shock revelation last month that its first half profits had been overstated by £250m.

Richard Cousins, the chief exec of catering group Compass, and former Ikea boss Mikael Ohlsson will join the supermarket's board on November 1st, the company said in a statement this morning.

The appointments are also designed to head off not-unwarranted criticism of a lack of retail experience on the board (including of boss Dave Lewis, an ex-Unilever man). The other eight non-exec directors hail from publishing, utilities, banking and politics.

Eyebrows were also raised last week over the delivery of a corporate jet worth $50m (£31.3m), which Tesco has said it will sell straight away, along with its four other private planes. The wilted cherry on top of another miserable week came when legendary long-term investor Warren Buffett said buying a 5% stake in the grocer had been 'a huge mistake'.

'Mikael and Richard have been updated on and are wholly supportive of the steps being taken by the new management team to rebuild trust in Tesco and to focus all the resources of the business to deliver value to our customers,' chairman Sir Richard Broadbent said.

And Broadbent will no doubt be mightily relieved to see Tesco's shares, which have fallen more than 50% in the last year, up more than 2% to 176p in mid-morning trading. Analysts had been calling for his head after the accounting scandal, which led to the suspension of UK managing director Chris Bush and three other executives, broke.
Source: Yahoo Finance
They have given the new appointments a cautious welcome today, though. Shore Capital analyst Clive Black said Cousins and Ohlsson are 'very highly regarded in the investment community'.

'When you've got a dysfunctional board it's a bit like a football club in that matters in the boardroom may start to affect affairs on the pitch,' he said. 'When the non-executives have no experience of running a supermarket, you can see how the car crash happened.'

But investors will really be waiting to see whether Dave Lewis, who took over from Philip Clarke in September, can turn around the supermarket's falling sales. The accounting scandal and corporate governance issues are, for now, a very unwelcome distraction.