Tesco hovers as EU approves Northern Rock break-up
The Rock's good bank/ bad bank split gets the thumbs-up - as Tesco moves into its heartland.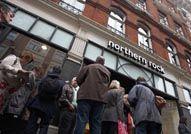 The sale of Northern Rock moved a step closer today, after the EU Competition Commission approved the plan to hive off its dodgy assets into a so-called 'bad bank'. That will be welcome news for our cash-strapped Government, which can step up plans to flog the 'good bank' back to the private sector, possibly even before the General Election (presumably leaving the taxpayer with the remaining rubbish). So it's interesting that Tesco's banking division (one of the favourites to bid) chose today to announce the creation of 1,000 jobs in the Rock's home city of Newcastle...

Commissioner Nellie Kroes said today that splitting the Rock (along with a 'significant reduction' of its market share - to less than half pre-crunch levels) would 'allow the bank to become viable in the long-term and limit distortions of competition.' The plan involves hiving off about £50bn of mortgages into the bad bank, along with around £30bn of unsecured loans and Treasury debts. Meanwhile the Rock's £18.5bn in customer deposits, plus some cash and the remaining £10bn of decent-quality mortgages, will go into the good bank - which can then be sold to the highest bidder. This will apparently mean that the £26.9bn of taxpayer aid will technically be paid back by the end of next year (although we'll still own the dodgy bank).

So Kroes' intervention is likely to change the face of the UK banking sector - particularly since she's unlikely to stop there. She's also expected to force Lloyds and RBS to sell off a number of branches and subsidiaries, which will mean another load of assets will be up for grabs for new market entrants. Virgin Money and National Australia bank have both been touted as potential bidders, but Tesco's banking division - which was widely seen as the favourite - has been playing down the talk lately. You could argue that it doesn't really need the Rock's high street network, and it certainly seems to be doing pretty well on its own, thanks very much: it said today that it would create 1,000 new jobs at a service centre in Newcastle, slap-bang in the Rock's heartland.

All of which is good news for the Government (which is apparently set to appoint ex-UBS banker Robin Budenberg to run UKFI, the body tasked with managing our investment in the Rock). But the sale of the good bank is unlikely to go unchallenged; rivals won't be happy, and some people are already lobbying for it to be remutualised. The Government says that plan is under consideration, but a couple of billion in cash may look rather more tempting in an election year...

In today's bulletin:
Tesco hovers as EU approves Northern Rock break-up
Big Gatwick loss causes BAA profits to nosedive
Government NIC hike will cost 57,000 jobs, says think-tank
Budweiser brewer had 'frat party' atmosphere, says senior female exec
Check out Lady Geek, our great new technology blog