Tesco, the modern-day community centre
A survey suggests consumers see supermarkets as our best chance of restoring a bit of community spirit in the UK. Seems improbable...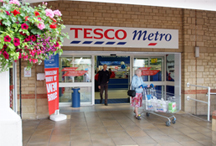 Given that three in every £10 in the UK (not to mention a roughly equivalent proportion of our time) is now spent in Tesco, it's fair to say that in some places, the local supermarket has become a reasonably important part of the neighbourhood. But now a new survey has highlighted just how important: apparently, more than half of consumers think that the supermarket is playing a 'positive role' in returning a sense of community to the UK. Really?

The survey, by marketing agency G2 Joshua, showed that of the 3,000 consumers surveyed, more than half genuinely think brands can help to restore a sense of community in Britain. As well as Tesco, Waitrose scored pretty well in the survey, with a 23% vote, as well as Morrisons, which accrued 20%. At the other end of the scale were Nike, with just 6%, Red Bull, with just 5% (presumably all students grateful for the free cans supplied to them around exam time) and - bizarrely given that it donates 10% of its profits to charity and community projects - Innocent Drinks, with 9%.
All this might seem odd, particularly when you take into account the violent reaction the opening of new Tesco store often provokes - as in the Stokes Croft area of Bristol recently. In fact, this morning the Times has reported that Mary 'Queen of Shops' Portas has pointed the finger at Tesco for its pernicious effect on the high street. 'It does not help when we have small businesses stuck with double yellow lines outside their shops and Tesco with planning permission for the car park just down the road,' she said - indeed, according to the latest figures, 14.5% of shops are now empty.

Still, G2 Joshua CEO Tim Hipperson points out that despite their bad image, supermarkets have been engaging in community-centred activities for years now – whether that's donating sporting and computer equipment to local schools, or giving staff time off to paint the fences of a local nursery.

Then again, it could just be a function of their marketing campaigns: Morrisons, for example, has featured Freddie Flintoff cast as a sort of patriotic version of the Pied Piper, leading an army of children around a store to buy provisions for an enormous street party.

Of course, Portas' contingent would argue that this is just a cynical attempt to drive customer loyalty. But whether that's true or not, it's certainly a sign of the times that consumers see their local Tesco or Waitrose as something of a community hub. Although if you ask us, we're with Portas: our local greengrocer wins out every time...