Tesco posts a record loss of £6.4bn
The troubled supermarket is hoping to make a clean break after an awful year.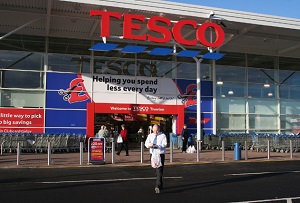 It goes without saying that it's not been a good year for Britain's biggest retailer. But the scale of Tesco's woes only became truly apparent this morning when it reported a loss of £6.38bn, the worst in its history and one of the biggest corporate losses Britain has ever seen. That compares to a profit of £2.26bn in the previous year, while revenues were down 3% to £65.7bn.
'It has been a very difficult year for Tesco,' admitted the man who's been tasked with sorting this mess out, the supermarket chain's chief exec Dave Lewis. 'The results we have published today reflect a deterioration in the market and, more significantly, an erosion of our competitiveness over recent years.'
To be fair, the company's profit figures were dragged down significantly by one-off costs including a £4.7bn property write-down and £416m in restructuring costs, but its underlying pre-tax profits were still down 68.4% to £961m. The figures cap off an absolutely woeful year for the retailer, which was forced to disclose in September that it had overstated its profits by more than £250m. Now that it's made a loss, it won't be paying the millions of pounds in corporation tax it was paying before, which is unlikely to go down well at election time.