Tesco reports first fall in profits for 18 years
The UK's largest retailer is starting to look vulnerable as half-year profits fall for the first time since 1994.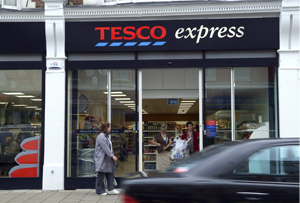 For the first time in almost two decades, Tesco has announced that pre-tax profits fell 11.6% to £1.7bn in the half-year to August 25, compared with the same period the previous year. The retail giant claims that the fall is down to its £1bn programme to refurb a huge number of its UK stores, as well as hiring 8,000 extra staff. Despite the profit drop however, like-for-like sales enjoyed a marginal increase (0.1%) in the second quarter, suggesting that the investment programme could still bear fruit. Or veg. Depends which aisle you're in.
To give Tesco its dues, the refurb scheme has already modernised 230 stores, and several food ranges (namely meat, bakery and frozen food) have been expanded. Group sales are actually up 1.4% for the period to £36bn, so the investment is what has done the damage, rather than poor underlying stats. Tesco's chief executive, Philip Clarke, said: 'In April, I set out our plans to 'Build a Better Tesco' in the UK. We have been hard at work and I am encouraged by our customers' initial responses to the changes we have made – but there is much more to be done.'
Shareholders will probably agree that there's more to be done. While the UK business gets its expensive overhaul, the American business isn't doing too well. The 'Fresh and Easy' brand, which launched in the US in 2007 to much fanfare, has yet to turn any profit after five years of operation. Ever the stoic, Clarke appears unfazed by this, too. Last month he told the World Retail Congress that the US business is 'fighting nicely [in] a playground with some very big and very old retailers.' Then he came over all hyperbolic saying: 'Already the changes that we've been making have gone some way to prove that there's life in Fresh & Easy yet.'