Tesco share price falls to 11-year-low as new CFO Alan Stewart starts three months early
Parachuting the former Marks and Spencer finance boss in ahead of plan hasn't stopped the supermarket's share price falling even further.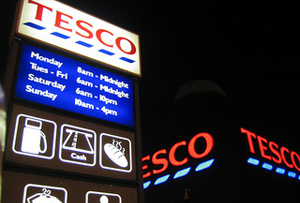 Tesco is in all-out fire fighting mode at the moment. Yesterday, it suspended four senior executives after discovering first half profits had been overstated by around £250m. Today, new chief financial officer Alan Stewart was parachuted into the job from the same role at Marks & Spencer, more than three months before he was due to start.

That hasn't stopped the supermarket's share price from falling still further, though. It plunged 11.59% yesterday to 203p, despite chief executive Dave Lewis, who also started early on September 1st, and chairman Sir Richard Broadbent, who is facing calls from many analysts to resign, taking to the phones to try to reassure investors.

And today it was down another 3% to 196.50p in mid-morning trading – the lowest since May 2003. So far this year, more than 40% has been wiped off the company's value.


Source: Yahoo Finance
There should of course have been big questions yesterday for former finance chief Laurie McElwee – except he conveniently left just a week ago, after resigning in April. That left the finance chair next to Lewis looking embarrassingly empty as he faced the music from investors (Stewart wasn't announced as McElwee's replacement until July either - as MT said rather presciently at the time, not having someone with a vested interest in keeping a close eye on the numbers wasn't the best idea).

Lewis appealed personally to M&S to release Stewart ahead of his original December 1st start date, which, rather surprisingly, isn't being paid any compensation, according to the Telegraph.

'It was a request from Dave to [M&S chief executive] Marc [Bolland]... We felt it was the right thing to do,' an M&S spokesperson said, in an unusually heartfelt corporate love-in.

Bringing in Stewart early certainly looks decisive on Lewis' part. But it also looks like it's verging on the desperate. What the new boss needs to do is focus on stemming the tide of Tesco's rapidly falling sales and market share. Investors, though, are clearly worried Lewis will have more fires to fight before he can attend to the bigger task at hand. First things first - tell everyone what actually happened that meant profits were somehow overstated by £250m.