Tesco shares plummet as it suspends four execs over £250m profit overstatement
Things are going from bad to worse for the embattled supermarket, but it means Dave Lewis can dole out some shock therapy.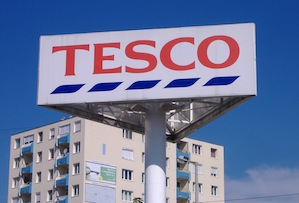 All is not well at Tesco. Britain's largest supermarket has suspended four executives, including UK managing director Chris Bush, after discovering first half profits had been overstated by around £250m.

Accountants Deloitte and lawyers Freshfields have been brought in for an independent investigation, which chairman Richard Broadbent said will focus on the timing of reporting of payments from its suppliers. That implies revenue could have been moved around in a ham-fisted attempt to massage not-so-happy numbers.

'We have uncovered a serious issue and have responded accordingly,' said new boss Dave Lewis, who only took over on September 1st, in a statement. 'The Board, my colleagues, our customers and I expect Tesco to operate with integrity and transparency and we will take decisive action as the results of the investigation become clear.'

That didn't reassure markets, though. Shares promptly plunged more than 11% when the markets opened, before recovering somewhat to trade around 9% lower at 209p. They'd already fallen more than 30% this year, after the departure of chief executive Philip Clarke and two profit warnings in July and August.
Source: Yahoo Finance
In a conference call, Lewis refused to comment on whether auditors PwC should have spotted the less-than-kosher accounting practices. The former head of personal care at Unilever did say, though, he'd never seen anything like it in all his years as a supplier.

Many analysts were shocked at the revelation, with brokers Shore Capital saying it was 'flabbergasted'.

'There can be no suggestion of impropriety on behalf of the new CEO to our minds, who has been in the job less than a month,' said Shore analyst Clive Black.

'However, this development may raise, indeed must raise, much more fundamental questions over the Chairman's position and the nature, composition and extent of the Board, which to our minds has been lop-sided between executives and NEDs for far too long; such matters, of course, are for shareholders to decide.'

However, it is vindication for rival broker Cantor Fitzgerald, which said it believed Tesco was overstating its UK gross profit by £200m a year in two notes published in October and November last year. It claimed today the supermarket had been delaying payments to suppliers.

The pressure, then, is piling on Broadbent, who is refusing to step down. 'Things are always unnoticed until they're noticed,' he said (duh...). Except investors are wondering how on earth the issue wasn't noticed before, although they will have to wait until its first half results on October 23rd for more details to emerge.

It's unquestionably a bad start to life as Tesco boss for Lewis. But the turmoil he has inherited gives him an opportunity to stamp his authority and make drastic, much-needed changes. He'd better take it sharpish, as investors won't be forgiving for long.