Can Tesco solve the UK's housing crisis?
The supermarket is planning 4,000 new homes, worth an estimated £1bn. Philip Clarke could definitely use the money.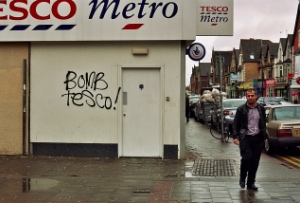 Whichever way you look at it we need to build more homes. House prices leapt 10.5% in the year to May. Back in 2004, economist Kate Barker estimated the UK needed 210,000 new homes each year to keep annual price growth at 1.8%, but the average has been just 115,000.

So the news Tesco is going to do its (admittedly small) bit by building 4,000 new homes on some unused tracts of its vast landbank is a sliver of good news for wannabe home owners looking at rocketing prices with increasing alarm.

It's win-win for Tesco, which gets to look all cuddly by doing something to address the housing crisis, while cashing in on land that is definitely going idle as supermarkets scale back superstores and shift their attention to convenience stores and online sales.

The homes, which will be finished by 2017, will mainly be in the south east of England, where demand for property is the highest in the country outside of the capital. Once they're finished, they will have an estimated value of £1bn, according to trade bible Property Week. The supermarket is also considering cashing in by selling some of its stores and leasing them back.

Under-fire chief exec Philip Clarke could certainly use the money, as Tesco's market share and sales continue to shrink under pressure from German discounters Aldi and Lidl. But it's only a short-term fix - at some point he'll have nothing left to sell off.