Tesco has upped the ante in the supermarket price war
The grocer is offering to 'immediately' match its competitors' prices at the checkout.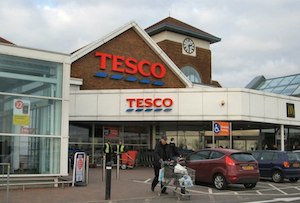 If there's one winner of the turmoil that has been engulfing supermarkets for the last year or two, it's the consumer. Eager to hoover up every last penny of spending, grocers have been slashing prices to the bone.
Today Tesco announced its latest scheme for getting customers through the door. Its Price Promise scheme used to offer shoppers vouchers to make up the difference if any of the products in their basket were more expensive than they would have been at Asda, Morrisons or Sainsbury's. But now with 'Tesco Brand Guarantee', those discounts will be applied 'immediately' (in the case of branded products at least) at the till.
That might sound like a small change but it could make a substantial impact on its customers. More than one third of shoppers have never used a price match scheme, and little wonder when remembering to hang on to vouchers or to use a loyalty card like Morrisons Match & More (which was amusingly taken to pieces by Lidl) is such a faff.