Is Tesco over the worst?
Profits halve at the embattled retailer, but the long retreat may be coming to an end as its sales decline slows.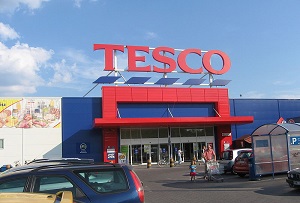 Dave Lewis is 'quietly confident' that Tesco's worst days are over. The retailer's not-so-new-anymore boss revealed the rout in group sales has now slowed to a manageable retreat. In its second quarter to August 29, Tesco's like-for-like sales in the UK were down a mere 1%, compared to 4% the same time last year.
Transactions, on the other hand, were actually up 1.4%. That's right - we're now buying more stuff from Tesco. If that refreshing news isn't reason to celebrate, what is?
Yes, underlying first half profits fell 55% to £354m, but this is no time to lose focus on the positives. 'We have delivered an unprecedented level of change in our business over the last twelve months and it is working,' said Lewis. 'In the UK, we continue to improve all aspects of our offer for customers, resulting in volume growth which is allowing us to create a virtuous circle of investment.'