Tesco's ex boss Terry Leahy set for £10m Blackcircles bonanza
The former retail supremo has joined the board of online tyre seller Blackcircles.com ahead of a possible £150m IPO.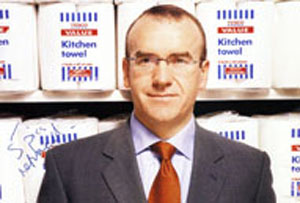 Sir Terry, who owns a 25% stake in Blackcircles.com, joins the board as a non-exec today, having acted as an advisor and mentor to founder Mike Welch for a number of years.

With a possible IPO in the offing, raising £50m at a valuation of around £150m, Leahy could be looking at a tasty £10m nest egg. Enough to re-tyre on (geddit?) - if he hadn't done so already of course.

Now Sir Tel is exactly the sort of eminence grise that any entrepreneur would kill to have on their board, but he has been pretty picky with his time since he stood down at Tesco in 2011, his other major gig being at value retailer B&M Bargains, which he chairs.
So why choose to honour blackcircles with his presence?Well, it turns out that Leahy and Welch go way back - the entrepreneur founded his online tyre business back in 2001, using cash saved up from stacking shelves in Tesco's petfood aisle. Blackcircles customers also get Clubcard points on their tyre purchases, and there are now 'Click & Fit' tyre fitting bays at three of Tesco's largest Extra stores.

So punters in Milton Keynes, Cambridge and Handforth can add a set of steel-belted radials to their weekly shopping list. Imagine trying to get those out of the trolley and onto the checkout...

But business is booming and Welch - who has been inundated with calls from eager investment banks since he revealed revenues up a tyre-smoking 20% last year to £27.8m - says he needs to raise cash to take the business from 400 to 1,000 franchised partners, and is giving the matter of an IPO some serious consideration.

'An IPO is realistic. We need to raise a round of capital and there is a willingness by various investment banks for us to go for an IPO' the Peebles-based Welch told The Scotsman this morning.

But despite having no debt, 35% repeat business earnings and a solid track record of revenue growth, this is one online business that won't be joining the $10bn club. Welch's ambitions are more modest - or perhaps simply more realistic - that that. 'We want to become a big medium-sized business and someone like Sir Terry will help enormously' he said.

Given that B&M Bargains is also heading for its own £1bn float in the summer, Leahy could be looking at a pretty Goodyear…