Tesco's Sir Terry wants to fix our schools
The Tesco boss thinks that our education system could do with a dose of retail medicine.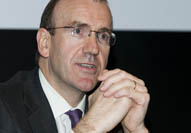 'Sadly, despite all the money that has been spent, standards are still woefully low in too many schools,' said Sir Terry, speaking at last night's star-studded (ahem) annual conference of the Institute of Grocery Distribution. 'Employers like us are often left to pick up the pieces. One thing that government could do is to simplify the structure of our education system.' There are too many agencies and bodies, he said, 'often issuing reams of instructions to teachers, who then get distracted from the task at hand: teaching children.'
So what's the answer, Sir Tel? 'At Tesco we try to keep paperwork to a minimum; instructions simple; structures flat; and – above all – we trust the people on the ground. I am not saying that retail is like education, merely that my experience tells me that when it comes to the number of people you have in the back office, less is more.' Try telling that to the Civil Service.
It's a pretty damning verdict, but Tesco is a big employer of school leavers so he should know what he's talking about. The Department of Children, Schools and Families were not too impressed with Sir Terry's remarks, despite – or perhaps because of – the fact that he's an education advisor to Gordon Brown. 'Standards have never been higher in our secondary schools', said a DCSF spokesman.