Tesla Model 3: Will it keep Elon Musk's company on the road?
How big a bite can Tesla - the 'Apple of EVs' - take out of the car biz?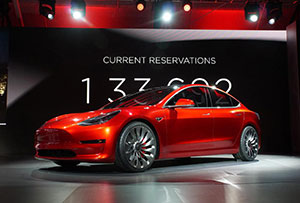 Formative years
Founded in 2003 by a couple of idealistic Californians intent on weaning America off gas guzzlers, Tesla was named after 19th-century alternating current ace Nikola Tesla. A clever blend of Silicon Valley tech disruptor with old-school design and metal-bashing skills, its $100,000 Model S set new standards of performance and desirability for electric vehicles - and ruffled a few feathers at BMW and Mercedes, to boot.
Recent history
Despite being well into its second decade, Tesla (whose $32bn market cap is almost 75% that of General Motors') retains a start-up's appetite for cash - analysts reckon it gets through $1bn annually and may require $11bn more over the next five years. But it also has extraordinary brand appeal - April's launch of the new 'affordable' Tesla, the $35,000 Model 3, generated no fewer than 325,000 advance orders at $1,000 a pop. That's more than the price of an iPhone just to book a place in the queue. But with production of current models running at just 50,000 a year, the jury's out on whether it can build enough Model 3s to stay on the road.
Who's the boss?
Elon Musk - the South African-born PayPal billionaire with a name like a Bond villain and the same determination to conquer the world - is chairman, CEO and owns a 22% stake. Regarded as a tough nut even in the hypercompetitive world of Silicon Valley, his reaction to roadblocks is to double down his efforts and do some swift hiring and firing. Nobody said that working for a visionary would be easy driving...