Is Tesla really the world's most innovative company?
Elon Musk's electric car company tops a global list, but measuring innovation is fraught with difficulties.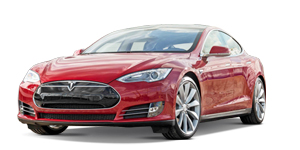 Few companies want to be thought of as ambling blindly down the inevitable path to obsolescence, which is no doubt why so many of them proudly declare innovation to be one of their 'core values'. As with most good things, someone eventually comes up with a way of measuring it and thus follows the dreaded 'ranking'.
Super-cool electric car firm Tesla came out top in Forbes' list of the World's Most Innovative Companies 2015. It led a pack of mostly pharmaceutical and tech firms, including British chip-maker ARM Holdings, ranked five.
But how does one measure innovation, one might ask? The Forbes list uses a methodology from disruptive innovation researchers Jeff Dyer and Hal Gregersen, which compares the enterprise value of a business (market capitalisation plus debt) with a short-term projection of its revenues based on analysts' predictions. The greater the relative difference, the more 'innovative' a company is.