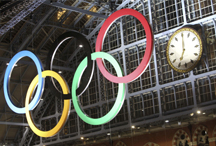 TFL boss warns people away from Central London during the Olympics
Quote of the day: 'Central London is morphing into a giant sporting and cultural event and the party starts well before the opening night.' TfL commissioner Peter Hendy warns motorists to steer clear of Central London during the Olympic Games. Put bluntly, if you have no interest in the Games, you're not welcome.
Published: 11 Jun 2012
Last Updated: 09 Oct 2013
.
Find this article useful?
Get more great articles like this in your inbox every lunchtime