Thank goodness for the Germans, as Bank bashes the City
Apparently a bank exodus could be 'a price worth paying'. But Deutsche gives London an unlikely boost...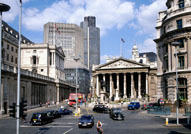 Some remarkable comments from the Bank of England's director of financial stability, Andy Haldane: he told the BBC that given the costs of supporting the banking sector when things go pear-shaped, it would be no bad thing if some of them decided to decamp overseas. Hardly the City-friendly attitude that has helped London to become the world's foremost financial hub (and HMRC's biggest cash cow). And yet who's championing the City in its hour of need? None other than Frankfurt-based Deutsche Bank, which plans to offset the pain of the new bonus tax for its London-based bankers and insists it's here for the long term. It's a topsy-turvy world...

Haldane was speaking after the Bank released its latest bi-annual Financial Stability Report, in which it says the UK financial system is now 'significantly more stable than it was six months ago. No great shock there; but what was surprising was the Bank's relatively hard line towards the banks themselves. Never one for false modesty, the Bank insisted its own efforts – notably the £200bn QE programme and near-zero interest rates – had allowed the banks to boost their profits, reassure the markets about future losses and raise capital cheaply. So as long as their prospects remained dubious, they should be using this cash to strengthen their balance sheets, not to pay out fat bonuses. And if some decided that they didn't like the UK heat and decided to move to a different kitchen, then that could be a 'price worth paying', Haldane opined.

This is pretty remarkable stuff for a body that's supposed to be independent and non-political (a Labour minister would be proud of these quotes). And it only adds to the prevailing air of hostility towards the banks – many of whom, as the City keeps telling us, have no reason per se to stick around in the UK. Given that public borrowing hit an all-time record high of £20.3bn in November, we could do without losing those tax receipts.

But at least one of them is planning to stick around. Joseph Ackermann, the CEO of Deutsche Bank has insisted that it will take more than this to push the bank out of London (he's even decided to spread the cost of the UK tax across his entire global workforce – bet that went down like a lead sauerkraut on Wall Street). Since his home turf of Frankfurt would be one of the biggest beneficiaries of London's demise, this is all the more extraordinary.

The other bit of good news for London is that this crackdown on bankers appears to be going global anyway – the newly-proposed amendments to the Basel rules on banking supervision will make life far more difficult and expensive for the giant international investment banks. So the bankers are probably going to see their bonuses hammered wherever they live...

In today's bulletin:
Thank goodness for the Germans, as Bank bashes the City
'Snow chance' - angry banks block £1bn SME fund
BA gets court to block Christmas strike
Pink pound wobbles in the recession
Be careful about letting your hair down this Christmas