'The advertising industry is nothing like Mad Men' - Cilla Snowball
The group chairman and group CEO of AMV BBDO finds inspiration in John Paul Getty's 'rise early, work hard, strike oil' and is proudest of being a mum of three.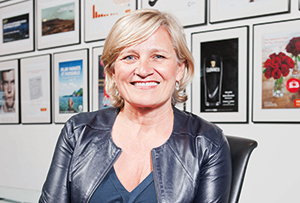 WORK
The Nespre
sso machine is one of the most used items in my house. I have coffee after getting up around 6am, then walk my four-year-old cocker spaniel Coco in my Ecco boots. There's a free communal breakfast at our office in Marylebone. Advertising is all about collaboration, so the more chances to get together, the better. I spend a lot of time with clients, which means I often get cabs. The Dial-A-Cab app on my iPhone 6 Plus is very useful. My three kids will laugh at this, but I try to be technically competent, even if I'm not a natural tech head. I love Mad Men, but the ad game isn't like that by any means. There's always a black Diane von Furstenberg dress on the back of my door in case I have a black-tie dinner, but I try to be selective which I go to. Claridges is my favourite.
PERSONAL
My house in Barnes is a great place to have friends over on weekends for a meal and a glass of wine.
I've been at home in the kitchen since I was seven, helping my mum who was a cookery teacher. I still have one of her first Kenwood mixers, which produces this awful smell of grinding metal but gets the job done. The Olympic cinema is on my doorstep and London's great for live music. The last act I saw was Sting and Paul Simon. I'm a Selfridges and Liberty shopper, and have worn Stella McCartney perfume for as long as I can remember. I also have a fatal attraction to Bottega Veneta bags.
INSPIRATIONS
John Paul Getty's 'rise early, work hard, strike oil' is a great guiding principle. I sit on the Women's Business Council and I'm acutely aware of the gender imbalance in my industry. It's changing, but there's a long way to go. I became a Comic Relief trustee a few years ago. Seeing street kids in Addis Ababa was humbling, but it's uplifting to see the difference it makes. In 2009, I got a letter out the blue asking if I'd be minded to receive a CBE from Prince Charles. I was very proud of my team - we all did the hard work but I got the medal. I'm proudest of being a mum, but my kids think I'm an embarrassment most of the time, unless I've cooked something good.