'The business side of The Pool has been a vertical learning curve for me' - Lauren Laverne
The co-founder of The Pool - a website for busy women - and BBC Radio 6 Music presenter loves her local gastropubs and winds down in the Lake District.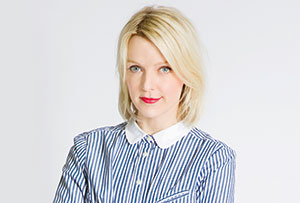 WORK
My morning's very domestic. I feed the kids and the cats (hopefully different things), then it's cuddles, coffee, a quick shower and I'm out the door. If I'm out and about, I'll dress in a mix of high street and designer - ASOS and Topshop as well as Sonia Rykiel and Marc by Marc Jacobs. I like graphic prints and bold colours, and I'm slightly obsessed with Grenson boots (left). If it's a quiet week, I'll walk some of the way to work in Fitzrovia, listening to a podcast like Radio 4's Analysis or RuPaul's What's The Tee?. I've been doing the morning show at BBC Radio 6 Music for five years, and after lunch I go to The Pool. The business side has been the steepest learning curve for me - a learning vertical, in fact.
PERSONAL

Music's still a huge part of my life, but I haven't played guitar in years. I've been helping my eight-year-old son, who's just started learning. He's already as good as I ever was - maybe I'll become his roadie. At the weekend we often go to the Southbank Centre or just watch the river and the world go by. I savour quiet time, but there's nothing that makes the world feel the right way up more than a night out with my mates in a good gastroboozer. My locals are The Queens, Victoria Stakes and the Clissold Arms. I'm vegetarian and enjoy cooking. We were thrilled Anna Jones agreed to become a food blogger for The Pool - her magic one-pot spaghetti (above) is a revelation. I don't believe in guilty pleasures but I find bouncing on the trampoline with the kids very therapeutic.

TRAVEL
I travel so much less than when I was a musician and I relish the opportunity to work outside of London when I can. Both my husband and I have family roots in the Highlands, so it's always special to go back there, but my favourite hotel on earth is The Samling (left) in the Lake District. Being holed up there for an autumn weekend is my idea of heaven. And if it rains? Even better. That said, the boys love swimming so we usually head somewhere with a great pool. Ibiza is a favourite. I always take my phone, Bobbi Brown lipstick, Garrett Leight California Optical or Chanel glasses and a book wherever I travel. Everything else I can live without.