'The worst storm in real estate history'
That's British Land boss Chris Grigg's verdict on the last two years. But are clearer skies ahead?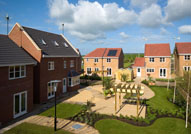 It certainly looks as though the worst may be over, judging by the results of the various property firms reporting today. British Land, the UK's biggest commercial landlord, said the value of its property empire actually increased last quarter for the first time in two years (albeit not by much), while Barratt Developments said reservations were up by a third on last year and estate agency Savills said its UK residential division was having a good second half. But with inflation and unemployment still rising, all three are well aware that they're not out of the woods yet...

British Land has had a rotten couple of years: its portfolio has plummeted in value by around 45% since mid-2007, while it lost nearly £4bn last year. But things are looking up slightly: the portfolio inched up 1.4% last quarter for the first time since the crash, helping first-half losses narrow to a slightly less catastrophic £113m (BL said it was a 'half of two quarters', which will come as no surprise to the mathematicians among you). CEO Chris Grigg seems to think the worst of the storm has now passed, and although he's 'mindful that the waves caused by the financial maelstrom of the last two years have not yet settled', he seems confident that BL can cash in as things pick up.

Barratt, another company that's had a tough couple of years, also sounded more cheerful today. Its debts are now under control thanks to a recent refinancing, and with the market stabilising, it's apparently 'in a strong position to buy land as opportunities emerge'. However, it reckons any recovery depends on mortgage availability improving (that's right, it's all down to the banks again). And Savills – although fairly upbeat – added that 'the prospect of a general election and increased taxation in the second quarter of 2010' could also throw a spanner in the works.

In other words, rising unemployment, creeping inflation (up to 1.5% last month, official figures revealed today) and inevitable tax hikes are going to put huge pressure on people's spending – while even those who want a mortgage might not be able to get one. So life is still actually pretty grim for property firms. It's just that after the horrors of the last two years, even the current situation represents an improvement.

In today's bulletin:
Vince Cable demands windfall tax on banks
EasyJet profits nosedive as fuel gamble back-fires
Britain has too many pubs, says Enterprise
'The worst storm in real estate history'
Lady Geek: Is technology different for girls?