Theo Paphitis linked with Woolworths rescue bid
Dragons' Den star Theo Paphitis is apparently one of several bidders interested in saving Woolies...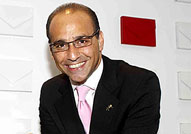 Theo Paphitis, the entrepreneur best known to the British public as the slightly scary one off Dragons' Den, is reportedly interested in putting together a bid to save some of Woolworths' most profitable stores, thus keeping the 99-year old brand on the high street. Woolies finally collapsed into administration last week, and apparently Deloitte (which has been appointed to oversee the process) has received 'substantial interest' from external parties in cherry-picking some of its best assets.
Talks with these potential bidders are ongoing – but time is not on their side. Not surprisingly, most of Woolies's suppliers are refusing to provide any more stock to the ailing chain – leaving it in serious danger of running out of its best-selling lines in the run-up to Christmas and potentially hastening its demise. And we'd be very surprised if its staff weren't all trying to get out of there as quickly as possible, to avoid being dragged down in the wreckage.
However, Paphitis is apparently willing to throw the company a lifeline. And to be fair to the London-based entrepreneur, he doesn't just make his living snarling at hapless entrepreneurs on BBC reality shows. He also has a successful track record in turning around failing businesses, including stationers Ryman and Partners, and also lingerie chain La Senza, which by all accounts has had a storming few months, shrugging off the downturn with aplomb (presumably women will always need lingerie). Judging by his recent documentary, staff at his stores can expect him to turn up unannounced and shout at them – but that's probably better than being unemployed.