Thomas Cook to close 200 stores
This week, the travel firm saw its wings clipped by a further 125 store closures. Shares have plummeted after the beleaguered firm approached its bank, cap in hand, for emergency cash.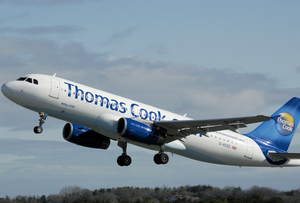 The tour operator's investors had hoped that a merger with the Co-op's travel business would prove Thomas Cook's salvation back in August. The deal was set to save £35m a year; a welcome dose of cash for a firm that had just posted three profit warnings and parted with CEO Manny Fontenla-Novoa.

Together, the two businesses formed the UK's largest high street travel agency and the second-largest foreign exchange business. Thomas Cook had travel all sewn up. Or so it thought.

Fast-forward three months and the firm is still floundering. Thomas Cook is desperately hunting for a new, brilliant CEO. Interim boss Sam Weihagen is getting out the big scissors to try and snip out the loss-making parts of the business to keep the thing afloat in the meanwhile. This involves ditching six of the firm's 41 aircraft (perhaps Ryanair will pick those up?), shaking up its call centres to save money during off-peak call times and selling off up to £200m of assets. Thomas Cook's UK high street presence is also a weak point in the balance sheet and must go: first 75, now 200 of its 1,200 high street travel agencies will shut up shop as a result of cost-cutting measures. That's 1,000 jobs for the chop.
In a further blow, shares have fallen 65% this week after Thomas Cook approached its bankers to increase its borrowing facility. This is down to a 'deterioration in trading': the political unrest in Egypt and Tunisia, coupled with floods in Thailand have put the kibosh on exotic getaways to these warm climes in recent months. Bookings are down 20% in France and Belgium (Tunisia is one of France's top holiday destinations) and in Russia (which favours vacations in Thailand).
After sorting a £100m credit agreement last month, Weihagen is in the middle of negotiating access to a further £100m this week. The firm's results, due to be posted on Thursday, have been delayed until a deal has been reached.