Thomas Cook and the death of going it alone in China
The travel company is tapping into Chinese tourism through a joint venture with conglomerate Fosun.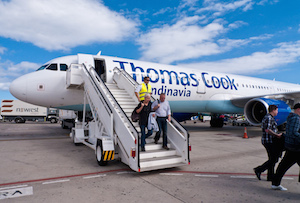 Some would say Thomas Cook is a bit late to the Chinese game, what with the Far Eastern economy's mega-growth slowing. But while the travel company almost going bust in 2011 probably has something to do with it waiting until now, its tie-up with conglomerate Fosun is also evidence of western companies' increasing – and sensible - aversion to going it alone in China.
The joint venture will be 51% owned by Fosun, a £13bn, Hong Kong-listed conglomerate that bought a 5% stake in Thomas Cook in March after snapping up Club Med in January. It isn't too financially risky either – both are putting roughly equal shares into a £1.6m pot.
The tie-up will target 'domestic, inbound and outbound tourism activities for the Chinese markets' under Thomas Cook's brands, all potentially enormous sectors, with Chinese tourism booming even as the wider economy has started to slow. The number of Chinese tourists going abroad rose almost 20% to 107 million last year, according to official figures.