Thomas Cook finally leaves the runway
The travel operator defies Tunisian terror, the Greek debt crisis and a botched apology to make a £19m profit after four years of losses.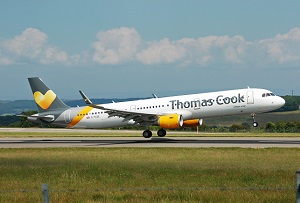 Four years is a long time to be in the red, especially for a public firm with dividend-hungry shareholders. So it's perhaps unsurprising that those same shareholders reacted warmly when Thomas Cook announced it had finally returned to full year profit today, for the first time since 2010. Shares rose 8.8% to 107p by lunchtime, though they're still a third down from their level in May.
The travel operator made £19m before taxes for the year to September 30, compared to a £115m loss the year before, as the dramatic restructuring begun under Harriet Green and continued under current chief executive Peter Fankhauser finally pays off.
It's all the more impressive given the panoply of disasters that has befallen Thomas Cook this year: the Greek debt and migrant crises, the terror attack in Tunisia that Fankhauser said would slash earnings by £25m and Justin King's critical report of the way the firm handled the deaths of two children from carbon monoxide poisoning at one of its hotels in 2006.