Thomas Cook posts half a billion pound loss
The struggling travel group's annual losses hit £485.3m as a result of fewer customers and higher fuel costs.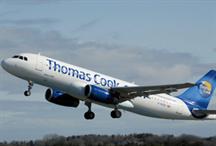 Thomas Cook, the UK's second-largest travel company, has had a difficult couple of years which has seen the business almost collapse at one point. And its latest financial update suggests the 171-year-old travel giant with a new boss behind the joy-stick is in for a bumpy ride as it hopes to turn the company's fortunes around.

The £485.3m pre-tax loss for the year to the end of September is a 22% rise on the £398.2m losses Thomas Cook announced a year ago. Revenue also fell to £9.5bn from £9.8bn over the year as a 'result of the difficult trading environment,' the group said. It blamed reduced capacity, the ongoing eurozone crisis and higher fuel costs for its financial woes. Middle East unrest also hit bookings, with European customers shunning destinations like Egypt, Tunisia and Morocco.

But the results came with a hint of optimism about the company's future. Chief exec Harriet Green, who took the helm this summer, said the downbeat results masked a 'material improvement' made in the four quarter. Bookings for the current winter season were strong, Thomas Cook said, and it has reduced its debts by more than £100m over the period, to £788m from £891m.
Heavily indebted Thomas Cook, which issued three profit warnings last year, is in the process of re-structuring its UK business. At one point last summer the business almost went under, and it was forced to turn to the banks for a crisis loan of £200m. Since then, the group has been on a cost-cutting strategy. In the last year Thomas Cook has reduced its aircraft fleet from 35 to 30 and closed 149 shops and five head office properties.
Harriet Green announced a further £100m of cost-cutting measures today. She said the plans will have an impact on its airline and internet business and will strip out 'duplication' in its structure. But she didn't specify whether or not the moves would affect jobs at the firm. Green said there was a real sense of urgency and pace of change sweeping across the group.