Thomas Cook shares hit turbulence as Sharm el-Sheikh flights cancelled
The travel company has had a run of misfortune in the Middle East this year.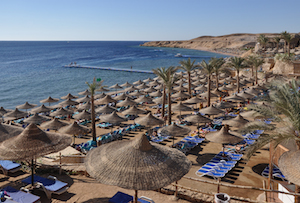 Although accidents, natural disasters and geopolitical rumblings are hazards of the job, so to speak, for a holiday company, you can't deny Thomas Cook has had a pretty bad run of luck recently.
The company has cancelled all flights and holidays to Sharm el-Sheikh until November 12th, after the UK government grounded flights to the Egyptian resort today.
Foreign secretary Philip Hammond said intelligence suggested there was a 'significant possibility' an on-board bomb caused a Russian plane flying from Sharm to crash on Saturday, killing 224 people. A US official told AP news agency their 'tentative conclusion' was that an affiliate of IS in the Sinai Peninsula had planted the device.