Thor Bjorgolfsson: How I made and lost $4bn
The autobiography of Iceland's first billionaire, ruined in the Landsbanki collapse, is a gripping and unsparing account of an entrepreneur's life, says Nick Leeson.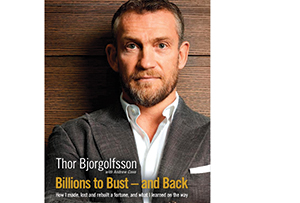 There is no doubt that the commissioning editor who asked me to review this book had a sense of humour. Thor Bjorgolfsson had made $4bn by the time he was 40 and lost most of it by the time he was 41. His fall from grace was perhaps the most fantastic of all time; from the heights of the cover of Forbes magazine as Iceland's first billionaire to the lows of a national pariah who rightly or wrongly was judged to have caused the collapse of a nation. As the original rogue trader, whose unchecked risk-taking caused the collapse of Barings Bank, I, too, have experienced personal boom and bust (albeit on a much smaller scale and when I was considerably younger) – I was born in 1967, as was Bjorgolfsson. It must have been a great year for putting people through the wringer!
I approached the book with an open mind. Thor's name wasn't recognisable to me and I've only been to Reykjavik once, in September 2007, to deliver a talk on risk management and warn against complacency. Back then, the economy was booming, property prices were doubling and stock markets were flying. Failure wasn't an option and I was reminded of a satirical image of bosses asking their employees to stand in a circle and give the employee in front a pat on the back. Everyone was applauding a job well done. Bjorgolfsson was the poster boy of it all. But the applause masked one crucial fact: nobody had a clue what they were doing.
Bjorgolfsson made his initial wealth in the 1990s in Russia. He spent 10 years establishing his financial empire with alco-pops and beer in the lawless 'wild west', drinking hard, fending off mobsters and even negotiating with the then-deputy mayor of St Petersburg, Vladimir Putin. He moved on to merging, floating, spinning off and privatising businesses from Finland to Sweden, Poland to Greece. By his 40th birthday, he had assets of around $4bn. He celebrated on his favourite Caribbean island with Jamiroquai and 50 Cent as part of the entertainment.