Could Thorntons disappear from the high street?
Britain's biggest chain of chocolate shops is being munched up by Italian giant Ferrero.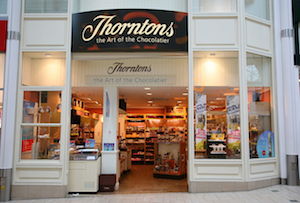 Another Thorntons chocolate, Mr Ambassador? Ferrero, the Italian confectionery giant known in Britain for its horrendously cheesey Ferrero Rocher ads, has agreed a deal to buy Thorntons, one of Britain's biggest chocolate brands.
Ferrero is offering 145p per share, valuing the business at around £111.9m, which sent Thorntons shares rocketing more than 40% to 144.06p this morning. The bid has echoes of Kraft's controversial takeover of Cadbury, although the smaller size of Thornton's means it's unlikely to attract the same scrutiny.
£112m might seem like a low price for a business that raked in around twice that in revenues last year, but it reflects the company's faltering performance. In the 28 weeks to 10 January it posted a dip in sales of more than 8% to £128.2m, and it's currently looking for a new chief executive after Jonathan Hart said he would step down last month. Thorntons' brand has struggled to remain desirable amid competition from both more upmarket chocolatiers and discount retailers.