Can Thorntons get its Willy Wonka factor back?
As supermarkets tighten their belts, the chocolatier needs to find more than a new boss.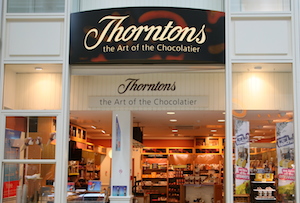 It's not a good time to be at the helm of an FMCG business. Today the supermarket price war has claimed another victim - this time it's Thorntons chief executive Jonathan Hart, who will resign at the end of the chocolate firm's financial year on June 27 after posting a dip in sales in March and a profit warning in December.
The company has had mixed fortunes in recent years. It's shown some promise around its key Easter and Valentine's day periods and solid sales growth online, but outside those key days for sweet tooth sales it looks like a business in need of a serious reboot.
Like other suppliers it's been hit hard by retailers tightening their belts, and it announced back in March that two 'major grocery accounts' had unexpectedly cut back on orders. But it might not be fair to lay the blame for Thorntons' troubles all at the sliding doors of the supermarkets - after all, it's got its own retail business as well. In fact, it seems likely that the chocolatier has suffered the same 'mid-market malaise' that's hampered Tesco, Sainsbury's and Morrisons.