Thousands face Christmas chaos thanks to No-Flyglobespan
Scotland's biggest airline has gone bust, leaving thousands of people stranded a week before Christmas.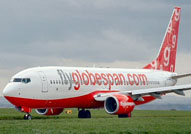 More grim travel news, just eight days before Christmas: Scotland's leading budget airline Flyglobespan has collapsed, leaving 800 people out of work and some 5,000 holiday-makers stuck overseas. This kind of thing always seems to happen at Christmas, particularly when economic times are tough – but with this and the potential strikes at BA and Eurostar, it's looking increasingly like we'd all be better off just stopping at home for this year's festive period. Of course, many of the airline's irate customers will have no choice in the matter; and they've every right to feel aggrieved about the way the situation has been handled…

Although there have been whispers about the health of the Globespan group for ages, the company has been furiously denying the rumours. It actually managed to post a profit this year, unlike most airlines, and as recently as Tuesday claimed that it was on the verge of securing a big new investor that would fund further expansion. But if the deal really was imminent, it appears to have fallen through at the last minute (supposedly because of regulatory problems), leaving the airline high and dry. It finally gave up the ghost yesterday and called in PwC as administrators, who promptly axed all the airline's flights to and from Britain with immediate effect.

As well as Flyglobespan's unfortunate staff and mid-holiday tourists, it's also rotten news for the 117,000 people who have apparently booked flights or holidays with the operator. As usual in these cases, those who have bought ATOL-bonded package deals (about a quarter of the total) won't lose out financially, because they're effectively insured by ATOL. Those who bought flights with a credit card might also have some redress. But everyone else could end up with nothing. Just the kind of Christmas present you don't want.

The hard-hearted may argue that the 'caveat emptor' rule applies here. And of course booking with any small airline is a bit of a gamble at the moment – given the double whammy of rising fuel prices and falling passenger numbers, these are tough times for the industry. But there does seem to have been a real failure of communication here. Most of those affected only learned about this from the news, while the company clearly underplayed the extent of its problems. So it's no wonder staff and passengers feel particularly hard done by.

In today's bulletin:
Shock fall in high street sales - as JJB's woes continue
Thousands face Christmas chaos thanks to No-Flyglobespan
Could the 'Gulfo' supplant the dollar?
Microsoft's 'one brand of shampoo'
Punch's glass remains half empty