Thousands of Ikea staff to share pension windfall
In a thank you to its staff, Ikea plans an annual top-up to workers' retirement pots.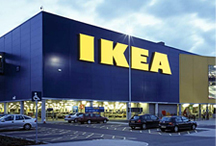 As many companies tighten their wallets, Swedish flat-pack furniture chain Ikea has bucked the trend by giving staff who have been with the company for at least five years a yearly top-up to their pension if the business hits global sales targets.

Under a programme called 'Tack' - Swedish for thanks – full-time workers will receive an annual £500 bonus in their pension pots, regardless of which department they work in or their job status. Part-time staff will get a proportional amount depending on the hours worked.

The first payouts, for an estimated 4,000 eligible employees in the UK, will be given in September 2014 and will cost the company €100m (£83.6m) per year. There are 7,200 staff in total across Ikea's 19 stores in the UK and Ireland.

Then pension bonus follows the introduction of 'One Ikea Bonus' programme, an annual performance-related bonus scheme linked to individual salary which was launched earlier this year.

'We believe that these two programs will strengthen the Ikea Group as a great place to work, today and in the future,' Chief Executive Officer Peter Agnefjaell said.

In the last year, Ikea has boosted its sales and market share in the UK. Sales rose 3.1% to £1.27bn for the year to August, with a 29% jump in online sales. The group has also increased its market share in home furnishings by 0.2% to 6.4%, 25 years after Ikea opened its first store in the UK.

However, profits for the year were not disclosed and will be published in Ikea's annual report in January. Last year, profits dipped to just under £20m in Britain, which was its worst results for three years.

Ikea isn't the first group to introduce bonuses to encourage staff loyalty - earlier this year, Sports Direct launched a lucrative bonus scheme which rewarded around 2,000 staff with shares worth more than £68,000.