The threats to global harmony
Simon Maxwell of the Overseas Development Institute offers some stark warnings of trouble ahead for those business executives concerned about the risks emanating from the north-south equality divide.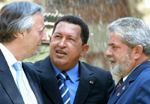 Africa's growth has been driven more by the high price of oil and other commodities it produces than from new forms of economic activity. The poor do not greatly benefit from this form of growth. More conflict in the region is likely with Somalia adding to the ongoing woes of Darfur.
The south will become more aware that the north has not been as generous with aid as it might have seemed, as much of the apparent increase had gone into debt relief to Iraq, Nigeria and the Democratic Republic of Congo. The fact that aid will be seen to have fallen in 2006 will cause tensions at the Germany-led G8 summit on 6-8 June 2007.
The Doha Round, which was to advance the cause of free trade, will stall until at least 2009. This is because the US President's opportunity to fast-track America's policy on this issue will expire and it will thereafter fall to Congress to debate the issues. The US will be otherwise preoccupied with the nearing Presidential election in 2008.
All eyes will be on the EU's economic partnership agreements (EPAs), potentially a "mixed blessing for developing countries". The year will also be a time of political transitions (a new UN secretary-general; UK and French political changes; US presidential elections; plus difficult elections in Kenya, Pakistan and Argentina).
A growing radicalism will emerge in the developing world where local people will focus their attention less on the issue of growth and more on such themes as social empowerment, social cohesion, redistributive justice and social protection. Latin American leaders are likely to become more radical in 2007. President Ignacio 'Lula' da Silva of Brazil is "one of those who can be expected to push out the boat in 2007".
The global development agenda in 2007
Simon Maxwell
www.opendemocracy.net
21 December 2006
Review by Morice Mendoza