How three female entrepreneurs bounced back from failure
Rachel Lowe MBE, Sarah Walter and Katerina Skoberne all lost their businesses.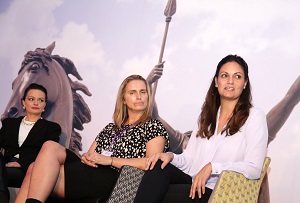 The entrepreneur community often urges us to celebrate failure as a necessary part of innovation and growth, but the reality is never quite so straightforward. Rachel Lowe created a successful board game, Destination London. Despite being rejected by Dragons' Den it became the best-selling item in Hamley's the Christmas after it was launched and Lowe went on to launch another 20 versions of the game before disaster struck.
In 2008 the business was denied a bank loan after a key client had to put back a project. Problems spiralled and it was soon put into administration, leaving Lowe personally bankrupt and eventually making her seriously ill. In an awkward twist, she was handed an MBE for services to business just three weeks after the company went under.
'I lost everything, including my home, but I picked myself up and here I am,' Lowe told MT's Inspiring Women conference yesterday. The failure hit her hard, but she has since found success after co-founding the women's gift brand She Who Dares with fellow entrepreneur Simon Dolan.