Three new London runways, now! says IoD
Two new runways are required at Heathrow and a further one at Gatwick if the UK is not to fall dangerously behind in the aviation game, according to a new IoD report.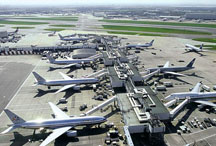 An Institute of Directors' report to be submitted to the Davies Commission will warn that Britain's economy will suffer terribly without more runways, it has emerged. The IoD criticises successive governments for lack of action about Heathrow which is already full, subjecting passengers to frequent delays. All London's existing airports will be full by 2030 and they are becoming increasingly uncompetitive. As of June 2011 Heathrow served a mere 192 destinations, compared with 291 for Frankfurt, 277 for Amsterdam and 257 for Paris. Heathrow's links with China are particularly dismal.
The IoD said that 59% of its members surveyed believe that a lack of capacity at Heathrow causes damage to investment in the UK. It recommends that public anger from London residents about increased Heathrow traffic be assuaged by 'newer, quieter planes, combined with a sharper angle of descent for arriving aircraft'. ('Fasten your seatbelts tightly, we're going in!' will be the new announcement order of the day as planes dive from the sky over Chiswick.) Twenty seven per cent of the IoD members back a third runway at Heathrow, this is more than twice those who support the Boris Island plan for a new airport in the Thames estuary. This will not please the London mayor.
For many members of the organisation, especially those in the north of England and in Scotland, Schipol airport in Amsterdam is rapidly becoming the hub of choice to take them elsewhere in Europe and beyond. 'In effect, we have outsourced our hub to Amsterdam's Schipol airport,' says the report. In the years since 1990 the number of British regional airports with direct flights to Heathrow has gone down from 21 to six. There are now 18 regional airports with direct connections to Amsterdam.